The 34th Eurographics Symposium on Rendering will be held in Delft on the campus of the Delft University of Technology.
The event takes place between the 28th of June and the 30th of June, 2023.
Please note that the conference High-Performance Graphics 2023 will be co-located. Both conferences together will cover a full week (26th-30th of June) of Graphics research.
Important Deadlines (All times are midnight, 23:59 UTC)
For more detailed information check the Call for Papers.
Research Track
Abstract deadline: Wed, Apr 5
Papers deadline: Wed, Apr 12
Reviews released to authors: Mon, May 15
Rebuttals due: Fri, May 19
Author notification: Fri, May 26
Final papers due: Fri, Jun 9
Final notification (CGF): Fri, Jun 9
Industry Track
Industry Track papers deadline: Thu, May 25
Author notification: Fri, Jun 2
Final papers due: Mon, Jun 26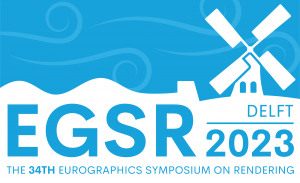 The page is under construction.
Van harte welkom in Delft!