This page provides information for attendees such as a links for registration and accommodation, travel information, local events, and tourist information.
Registration
More information about the conference registration and fees can be found here.
---
Venue
VCBM 2023 will take place on September 20-22, 2023 in Norrköping, Sweden and is hosted by Linköping University and the Norrköping Visualization Center C. Both are located within the Industrial Landscape of Norrköping.
VCBM will take place in the lecture hall K1 in the Kåkenhus building on the LiU campus in Norrköping next to the river. Enter Kåkenhus either from Bredgatan or via the campus foot bridge and follow the signs for K1. The lecture hall is located on the ground floor (floor 2). For directions see here. In case an entrance is locked, please go to the entrance next to the campus foot bridge.
The Bio+Med+Vis Summer School takes place in room KO301 in Kopparhammaren 2 on the opposite side of the river.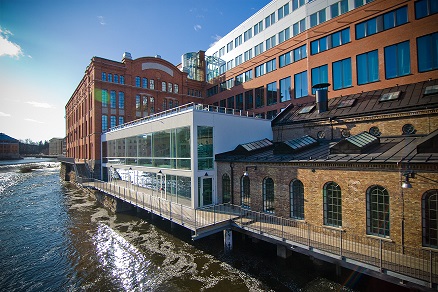 ---
Social Events
During VCBM there will be a number of social events.
The conference dinner will begin at 18:00 and takes place at Harrys, Holmbrogränden 1, which is within walking distance of the conference location.
---
Accommodation
Most hotels in Norrköping are within walking distance of the conference venue. You can find an overview here.
---
Travel Information
Flying
Travel by air to Norrköping can be achieved through two main routes: via Stockholm's international airport at Arlanda (ARN), which has connections from all major hubs, or via Linköping's city airport (LPI) which has daily flights from the major international hub in Amsterdam. In addition, there is the Stockholm Skavsta (NYO) close by in Nyköping which is serving connections to a range of European cities.
From Arlanda there are frequent train services to Norrköping either directly (roughly every two hours) or using the Arlanda Express service to Stockholm's central station and then direct services to Norrköping which leave at least once per hour. Direct trains typically take around 2 hours to reach Norrköping.
From Linköping a taxi to Norrköping will take approximately 35 minutes while a bus to Linköping's central station and then a train to Norrköping will take around an hour depending on connections.
From Nyköping there is a frequent airport coach service (flygbussarna.se) to Norrköping taking approx. 1 hour.
Train services
Train services via Denmark provide an easy and environmentally friendly route to Norrköping with many direct trains crossing the Öresund bridge daily and arriving in Norrköping some four hours later.
Trains can be booked (in English) through the national rail service SJ here with tickets available either as e-tickets sent by e-mail or for collection from ticket machines at the station.
---
Payments in Sweden
Sweden is a nearly cashless country. Many places in Sweden like restaurants, cafes, kiosks, pharmacies  refuse cash payments and accept cards only. In addition, public transports in most cities do not accept cash payments, either. So you're not likely to need a great deal of hard currency for your stay in Sweden. Instead, it is advisable to have a credit or debit card that can be used to pay expenses outside your country. Please note that in order to pay or withdraw cash with your credit card it requires that you have a card with chip and PIN (Personal Identification Number). The older magnetic-stripe cards won't work.